In a room tucked into a corner of the house, Emily Medlock stands in front of a mirror while she puts on her makeup. Her mother, Missy Medlock, is ironing Emily's gown and family is beginning to arrive. It's Cape Girardeau Central High School's graduation day -- it's also Mother's Day, Sunday May 12, 2019 -- and Emily is getting ready to walk across the stage to become a high school graduate on a day that symbolizes so much.
It's Mother's Day, but that's not the only reason it's significant, it's special because Emily, now 18, has a two-year-old son, Phoenix Young. While raising her son -- whom was conceived her freshman year -- Emily achieved top 10% recognition of her senior class, and received a scholarship to attend Southeast Missouri State in the fall for nursing.
"It's been pretty stressful trying to balance school and parenting and working, too," Emily said. "A lot of the time something's going to end up suffering because of it."
Laura McClard, Emily's guidance counselor at Central High School, said Emily is one of the most mature students she's worked with.
"If there's something to be done, [Emily's] going to take the reins and get that accomplished," McClard said.
Emily said she tries to be the perfect parent to her son, Phoenix, but said it's very hard, especially when focusing so much on academics.
"Because I'm a young mom, I don't have a lot of money," she said. "So I need those scholarships to really help me pay for college. I want to give him and I a better future."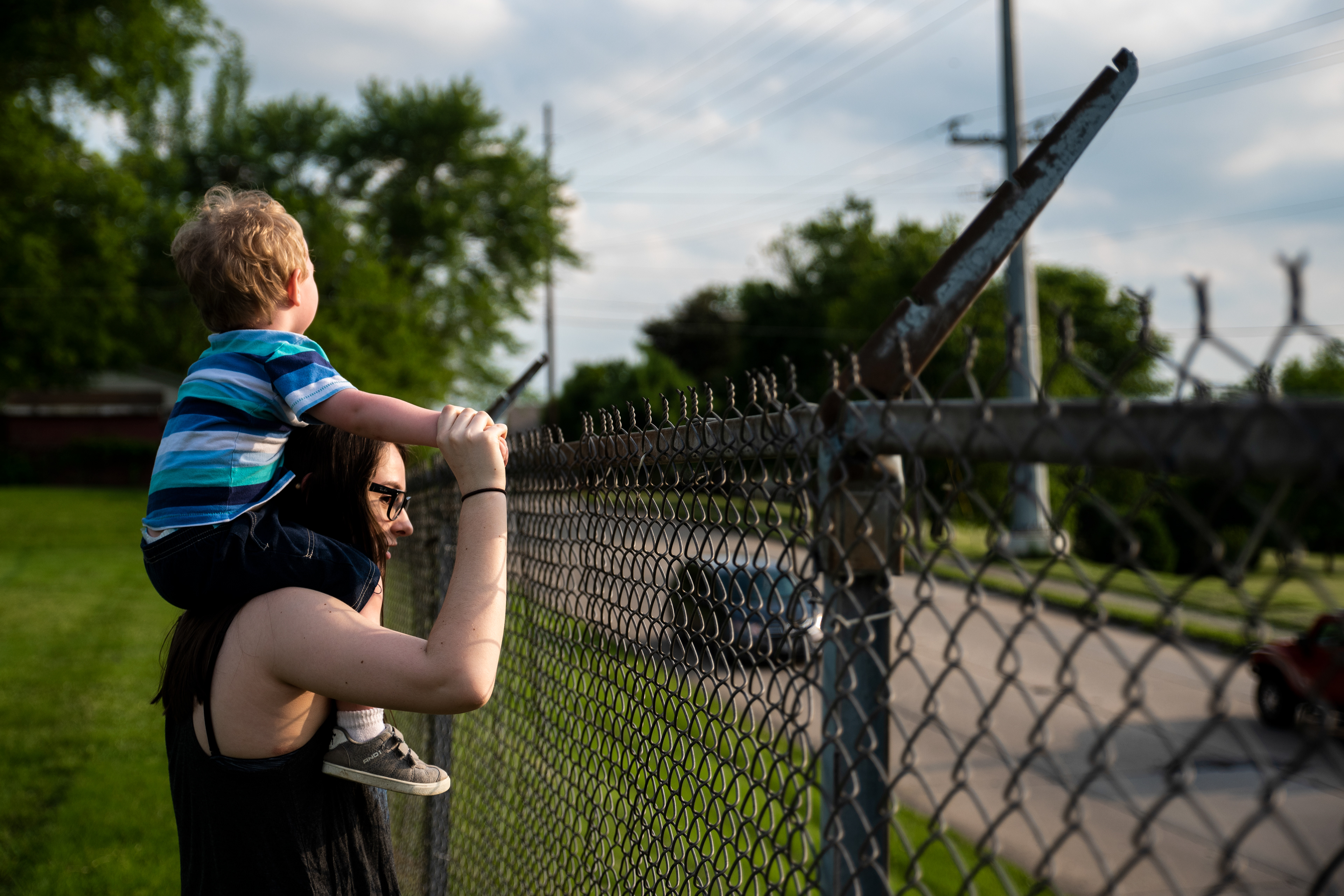 When Emily found out she was pregnant, she said she was scared and unsure of what she was going to do.
"At first, [raising Phoenix] wasn't going to be my decision," Emily said. "But I started thinking more and more about it and I realized I can do it, it's not the end of the world. I have all this support around me... I'm glad that I kept him; I'm glad that I went through with it."

The oldest of three, Emily has two younger brothers: Nick Medlock, 16, and Trenton Medlock, 11, whom she's had to step up to help take care of and raise as she's grown up. Their parents struggled with addiction when the three were younger. Her experiences have given her the drive to build a life differently than what she had growing up.
"It was just kind of sad, I think," Emily said. "And I don't want [Phoenix] to have to grow up like that."

While she said she doesn't recommend becoming a young parent to anyone, she said it's not the end of the world, and being a teen mom has given her a new outlook and motivation on life.
"It makes me want to be a better person, because I am an example for Phoenix," Emily said. "...It's really been about improving myself, too."

She said she has had a lot of support from her mom, Missy, and from Phoenix's father, as well. Phoenix splits his time between his parents' places throughout the week, and when he's in Emily's care, Missy will watch him while Emily is in class or at work. Without Missy's support, Emily said she wouldn't have been able to do it.
Sitting in the tunnel of the Show Me Center waiting for the ceremony to start, Emily mingled with her peers, bustling with excitement as any high school graduate was in that same room.
"It doesn't feel like it's real," Emily said to her classmates.
During the commencement ceremony, Emily was recognized amongst other classmates for her academic successes, including Scholastic Rank in the Top Ten Percent of the Class and being a member of the National Technical Honor Society.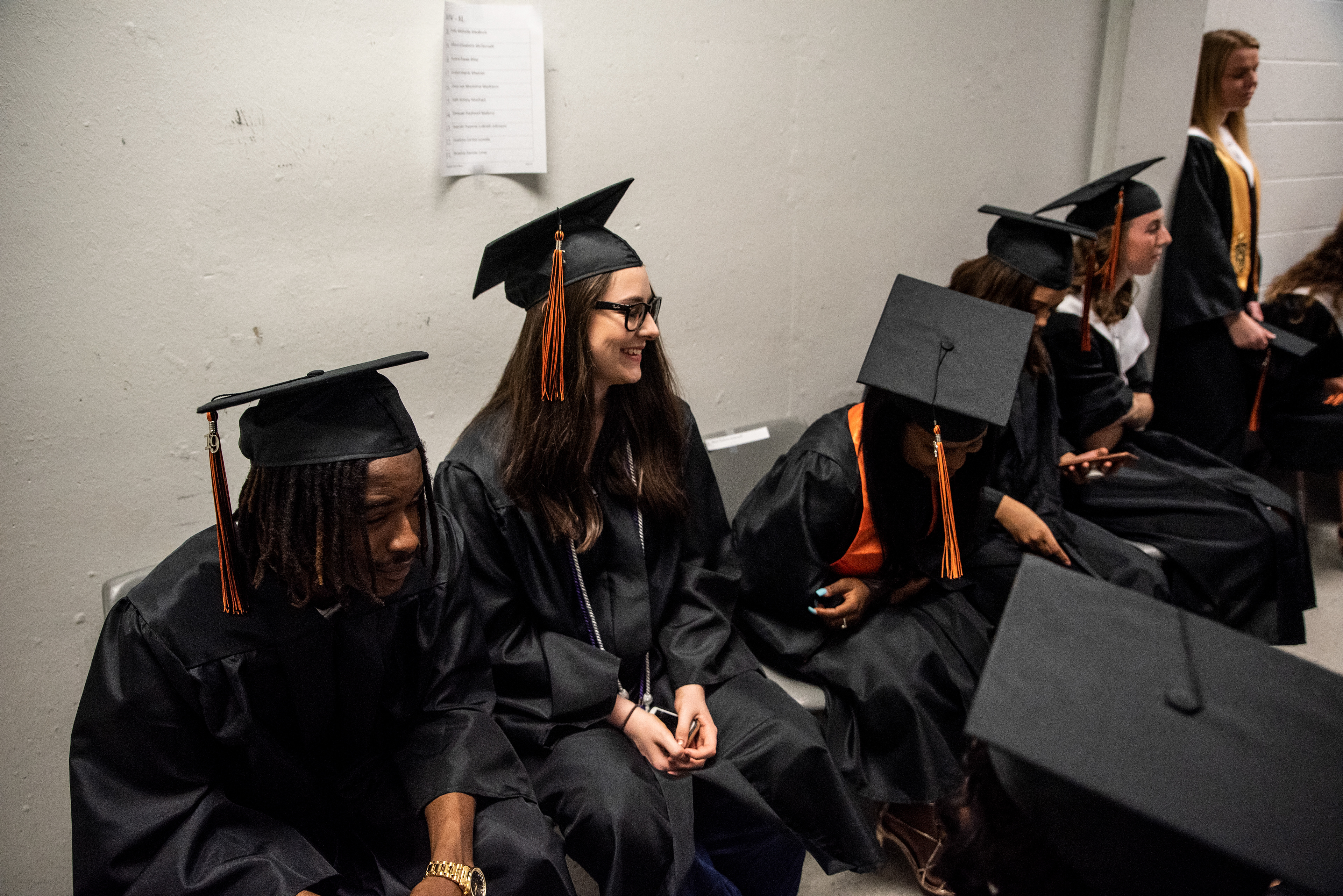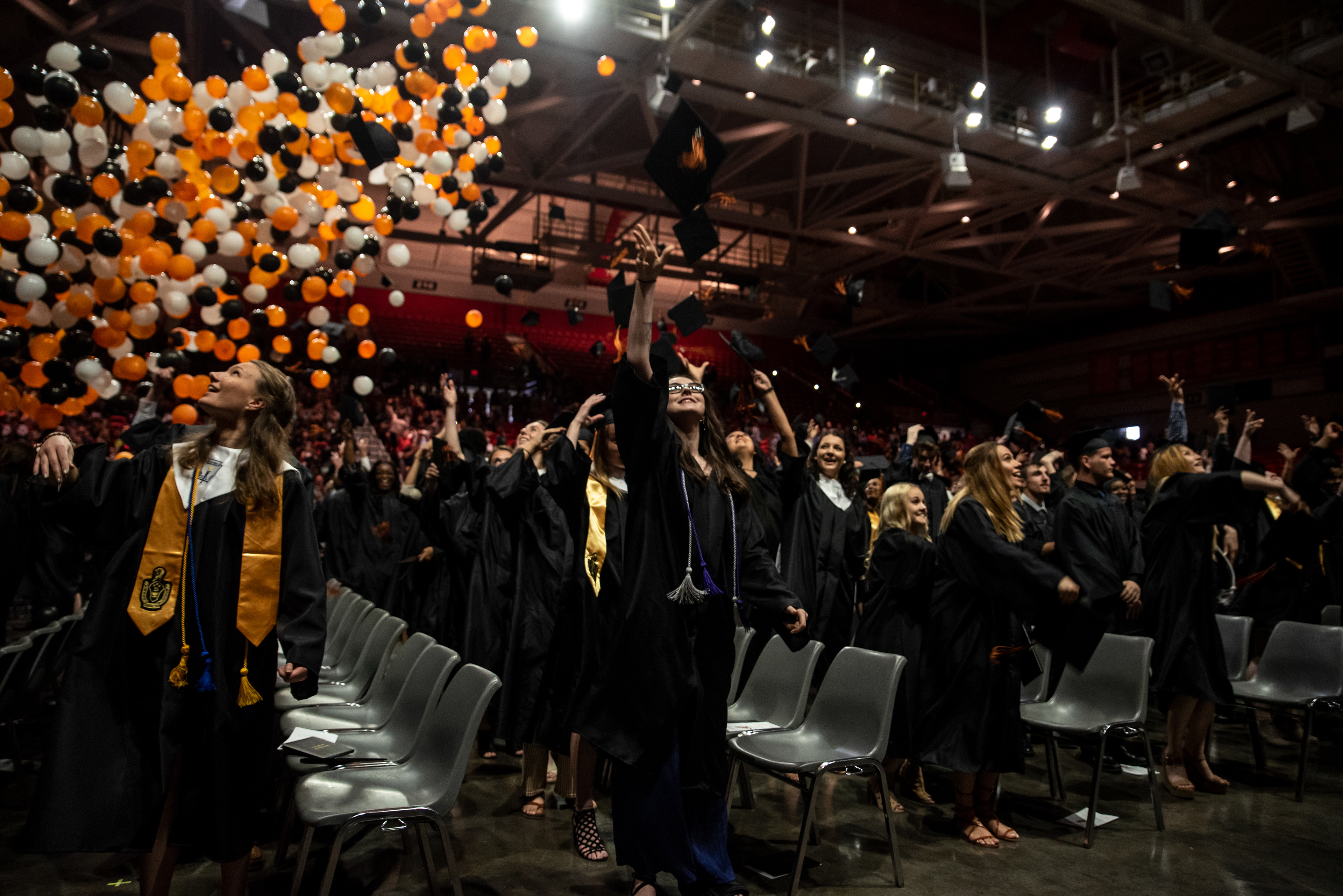 After walking across the stage and tossing her cap in the air, Emily was greeted by her family where she received a kiss from her son, Phoenix.
"We're just really proud of her," said Barbara Myers, Emily's grandmother, with a beaming smile.

She's starting her nursing studies in the fall at Southeast, and Emily said she's hoping to get her foot in the door with her certified nursing assistant experience beginning this summer.
"It's going to be difficult trying to manage college assignments and work and my son, but I've made it this far," Emily said.

"[Graduating college] means that I have a chance to have a real future and to be successful and do better than my parents did," Emily said. "...I want to give my son a better life than I had. I want to be comfortable in life, I want to not worry about bills and food or anything like that. And I don't want [Phoenix] to struggle or worry about that either, and I don't want him to have to grow up too fast like I had to."