Step inside La Sala Femme, a collaborative art installation in Hartford, and meet some of the Black artists who brought it to life.
WORDS + PHOTOS BY: KASSI JACKSON, AUG. 2019
Lights, though neon, glow dim and relaxing. Purples, blues, pinks and greens dance across the walls. The vibe is "chill"; a space filled with acceptance and a come-as-you-are atmosphere.
It's the sixth La Sala Femme, hosted at the Free Center in Hartford Saturday evening, Aug. 31, 2019.
In the front room, Che' LaMora has a space set up with a soft pink light, and she prepares to create for a live audience. In the neighboring room, eight rows of chairs — with couches in the front — layer the space. DJ Elle-Ce has her booth set up in the back of the room, beats pumping through the air as artists prepare, perform sound checks and get everything in order.
As community members begin to arrive, mingling takes hold. Kathleen Pompee, of Stamford, sits on a couch with her partner Sheneta Walker, of Bridgeport. Both express their appreciation for the environment and atmosphere.
From room to room, folks share each other's company, eventually making their way into the performance space.
"We hope that this is your living room with us," event organizer Jasmin Agosto says as she welcomes the community to the event. According to Agosto, "la sala" means "living room" and "femme" means "woman." Her event aims to highlight "black femmes, womxn of color, non-binary and queer artists of color."

The event opens with a calming meditation, followed by a libation to honor and remember members of the community who are no longer with us.
"This is about you guys just as much as it's about us," Agosto says to the attending supporters.
Eric Rey, of New Haven, played percussion for two of performing artists: Finn and Thabisa.
"What's beautiful about this event is it's clearly a safe space where people feel comfortable to be themselves," Rey says.
And so, the performers take the stage and the event begins.
We caught up with some of the artists who collaborated and performed that Saturday night. 
Here are their stories:

Sitting on the floor of a studio at Rockwell Dance Center in Trumbull, Daisy Infantas reflects on her journey to become the dancer she is today and the goals she hopes to achieve.
Born with dance in her blood, the 23-year-old Hartford native has been dancing for as long as she can remember, thanks to her Peruvian culture. Dancing professionally for the past four years, she has explored a variety of styles as she finds her path as an artist — from salsa, bachata and merengue all the way to African dance and street styles.
Dance has been a reliable outlet for Infantas to pour her soul, emotions and self into.
She explained dancing as "revisiting a place that made you feel good."
"Something that was nostalgic, and then when you revisit that place you have this feeling kind of in your tummy, in your heart, where it's like, 'I never want to forget this feeling,' " she said.
For the past three years, Infantas has shared her passion with students ages 8 and older through hip hop classes at Rockwell Dance Center.
"My mission is to give back to the younger generations," Infantas said. "I want to keep teaching young kids and I want to push them and change their mentality."
Lanisha "Elle-Ce" Collier
At 7 years old, Lanisha "Elle-Ce" Collier wrote and recorded her first song, but ultimately would find herself behind the DJ booth.
The 35-year-old, Hartford-born-and-raised artist was undeniably shy when she was younger, but said music was always a means of escape for her. Confident in her intelligence, Collier said the vulnerability of her talents scared her.
"Probably because it's my therapy for me," Collier said. "I sing when I'm sad, I sing when I pray, I sing for everything. So even that young, it was the way that I would cope."
Collier began finding her voice in church, which carried on to performances at karaoke, where she was inspired by a female DJ to explore other possibilities. Eventually, Collier started her own DJ company: Libra Lioness Entertainment.
A proud Libra with kindness and compassion at the heart of her existence, Collier grabbed hold of the idea of a "lioness," standing firm in her passion and path.
"You have to go get them," Collier said. "You gotta have that roar."
Since January 2017, Collier has had her roar, and she's worked for all she's had.
"When I was younger, you didn't really see too many examples of people from where I come from having things. Period," she said.
She had a level of perseverance. She put in the work, had a goal and did what she needed to do to achieve it, as well as found joy and fulfillment.
"It's exciting; it's exhilarating," Collier said. "It makes you happy. Music is therapy for everyone; it bridges the gap. You don't have to speak the same language and I could come and play your event, and I don't need to speak your language. How do you describe that feeling? I don't even know, but it's the best feeling in the world ... it's euphoric."
Visual artist Che' LaMora, 37, has been creating since she was old enough to hold a pencil — around 3 years old, she said.
Fresh out of college with a degree in art illustration, but not doing anything with it, LaMora took a step back in 2008 and thought "What am I doing?" With over 15 years of experience working with children and families, she wondered how she could bridge her two worlds.
She started strategizing, reaching out to colleagues, community members and strangers, and created groups for those with like-minded interests.
"It was like this vision I had," LaMora said. "I put it out into the world, and I prayed on it. And God sent me the people that needed to be involved."
Her art collective, called Procreate Artist Group, was a diverse group made up of several artists in the community and lasted for eight years. She said diversity is important to her, and that was her goal of this community within the larger arts community.
LaMora's art, from books to paintings to poems, has humans and relationships at the center. From the ills of divorce to falling in love with a narcissist, LaMora isn't afraid to talk about interactions that most individuals shy away from.
"I shine light on the maybe, the controversial or the taboo; things that people don't talk about."
In the lower level of the Downtown YMCA, there's a door decorated with silver stars and the word "Footlights" hanging on the wall next to it. Here is where you'll find 33-year-old Lael Marie Williams, program coordinator for the Footlights program.

Beginning as a student with the program in 2003, Williams now runs something that has meant so much to her the past 16 years.
"It's like, you know, you leave, but you always have a home to come back to," Williams said.
Saying she's a "plethora of different things," Williams ultimately describes herself as a performing artist, with a base in dance. Modern, tap, African and jazz are just a few of the styles she has trained in.
With a mother who was also a performer, Williams is familiar with the industry. Beginning in her mother's performing arts company, she now dances regularly with two companies: Island Reflections Dance Theatre Company (IRDTC) and FriendZWorldMusic.
"Dance really just found me," Williams said. "It took me."
A medical diagnosis during her high school years paralyzed the left side of her body and put her in a wheelchair. In 2004, as she maneuvered through physical therapy, she had the strength and ability to push through her exercises because of her dance background.
"[Dance has] done so much for me that I just feel like it's a part of me that I have to share with others in any way that I can," Williams said.
Taylor Morrison, 24, believes she was made to dance.
"I don't always look at it as just dance or, like, movement to music," Morrison said. "It's a way for me to connect with other people on a spiritual level."
She started dancing at age 4, training in ballet, but reached college and pursued another path. College didn't give her a sense of fulfillment, so she walked away until the time was right. After spending a couple of years in New York, auditioning for and being accepted into different dance schools and programs, she decided to go back and finish her degree.
Recently graduating with her biology degree from Central Connecticut State University, Morrison said she still finds herself coming back to dance.
"I can't let it go, it's always been a part of my life," Morrison said.

Tucked in the far corner of the living room of her family's Bridgeport home is a piano.
"This is my happy place," Finn, 24, says as she makes her way to the piano bench.
Raised by her grandparents and mother, who were all musicians, Finn was exposed to jazz and gospel music very early. She began singing when she was little, but has been playing music for just over a decade, studying jazz at the University of Connecticut.
"What I love most is that it gives me the ability to kind of just express myself," Finn said. "And then to kind of connect with others through that self-expression."
Self-expression defines Finn. From her birth name Finesha, she first created "Finn" as a stage name, but ultimately it became a core part of her identity. She says she finds beauty in the two identities she holds as both Finesha and Finn.
"I love the idea of just going by 'Finn' and people not really knowing what to expect," she said. "So they kind of have to get to know me a little more."
"This expression of myself through piano is like the only thing that really matters to me," Finn said. "Without that, I feel like I have nothing. And I — knock on wood — I joke about it, but I [say], I can lose everything else, but let me just have my hands. Let me have that and that would be okay."

Hartford born and raised, Khadija Lisa, 29, started dancing in preschool and has always wrote her own music.
Dancing, singing, musical theater — she has done it all. She's worked with producers, released her first EP and has continued to grow her musical talents.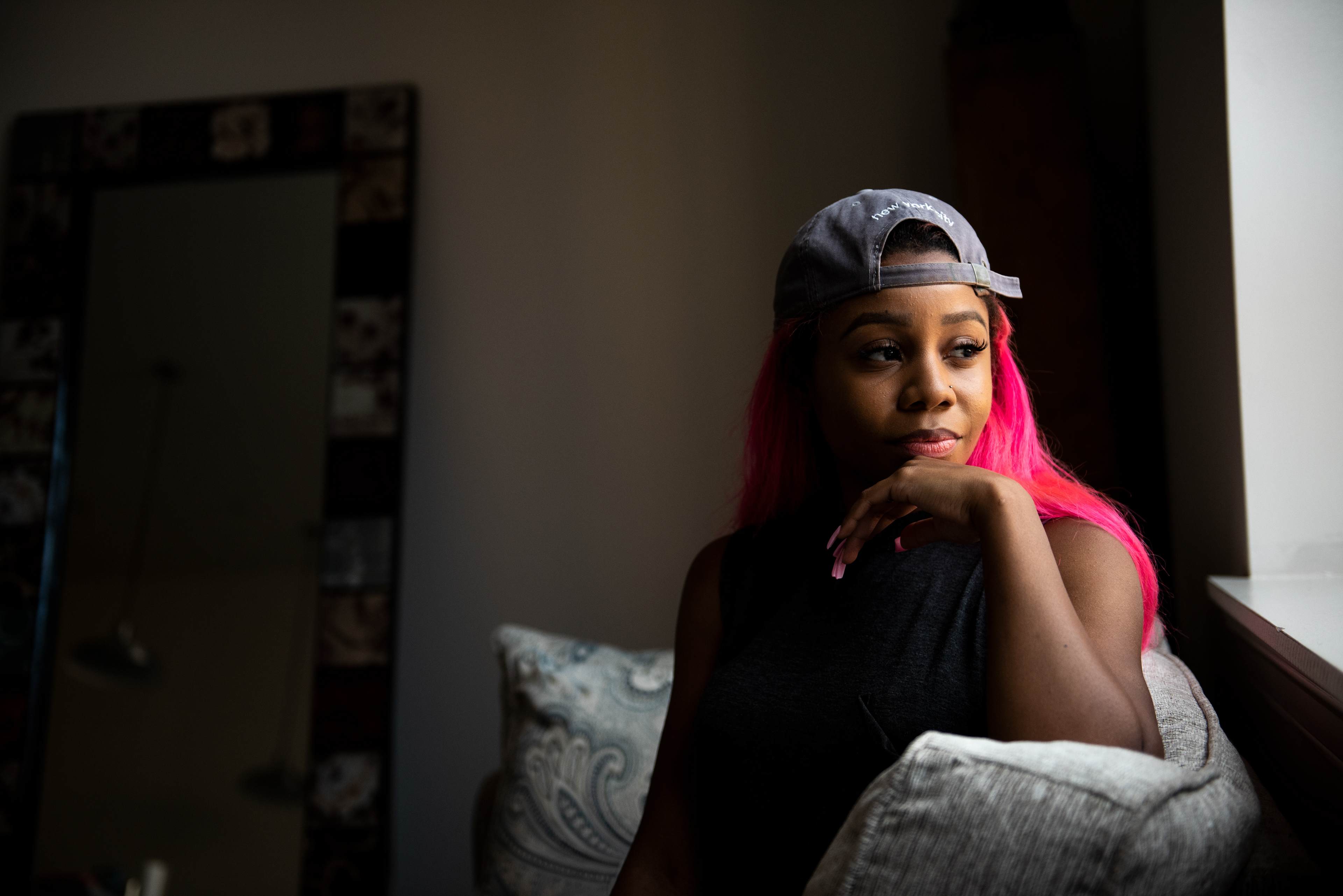 A house dance-style music artist, Lisa moved to New York for a bit and studied at The William Esper Studio before meeting a producer. Before she knew it, her first single, "Don't Go Jimmy," was produced. Her newest project, "Glow," is her first EP to be produced and released.
Performing at events like La Sala Femme provides her — and other artists of color — with a platform to share their talents on a local level. It also allows community members to know and celebrate female artists.
Lisa said performing gives her such a rush that it feels like a high. And she just wants her listeners to feel good after they experience her craft.
A nurse by day, Lisa says her daily goal — through her job and her art — is to spread joy and happiness.
"What's the point of living a life if you're not bringing beauty or joy into it?" she said.