WORDS + PHOTOS BY: KASSI JACKSON, JULY 2020
A group of protesters who set up tents in Stamford's Latham Park last week are refusing to leave until the city meets their demands for changes in the police department, more funding for mental health and other city services.
Although Stamford police and Mayor David Martin ordered the protesters to leave on Wednesday, the group members said Thursday they would not depart.
"We're not here to argue with people; we're here to educate," said Jason Baker, one of the activists who have been in the park since last Saturday. "And we're here to show out for support of the family of Steven Barrier."
The group took over the park after a protest over the death of Barrier, a 23-year-old Stamford man who died in police custody October 23, 2019. Their demands include cutting funds for the Stamford Police Department, changes in police policy, publicizing internal police investigations and reforming local mental health care.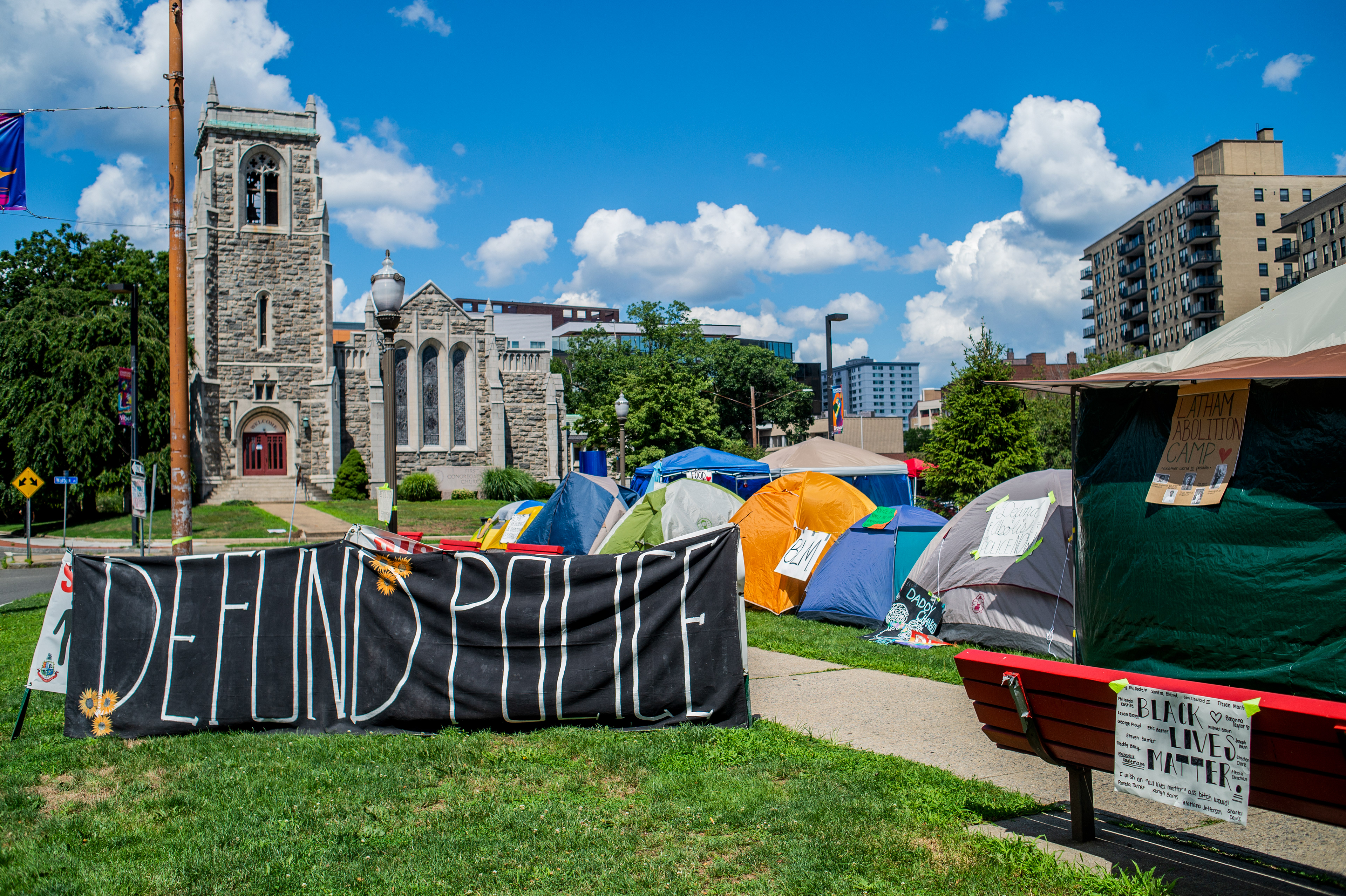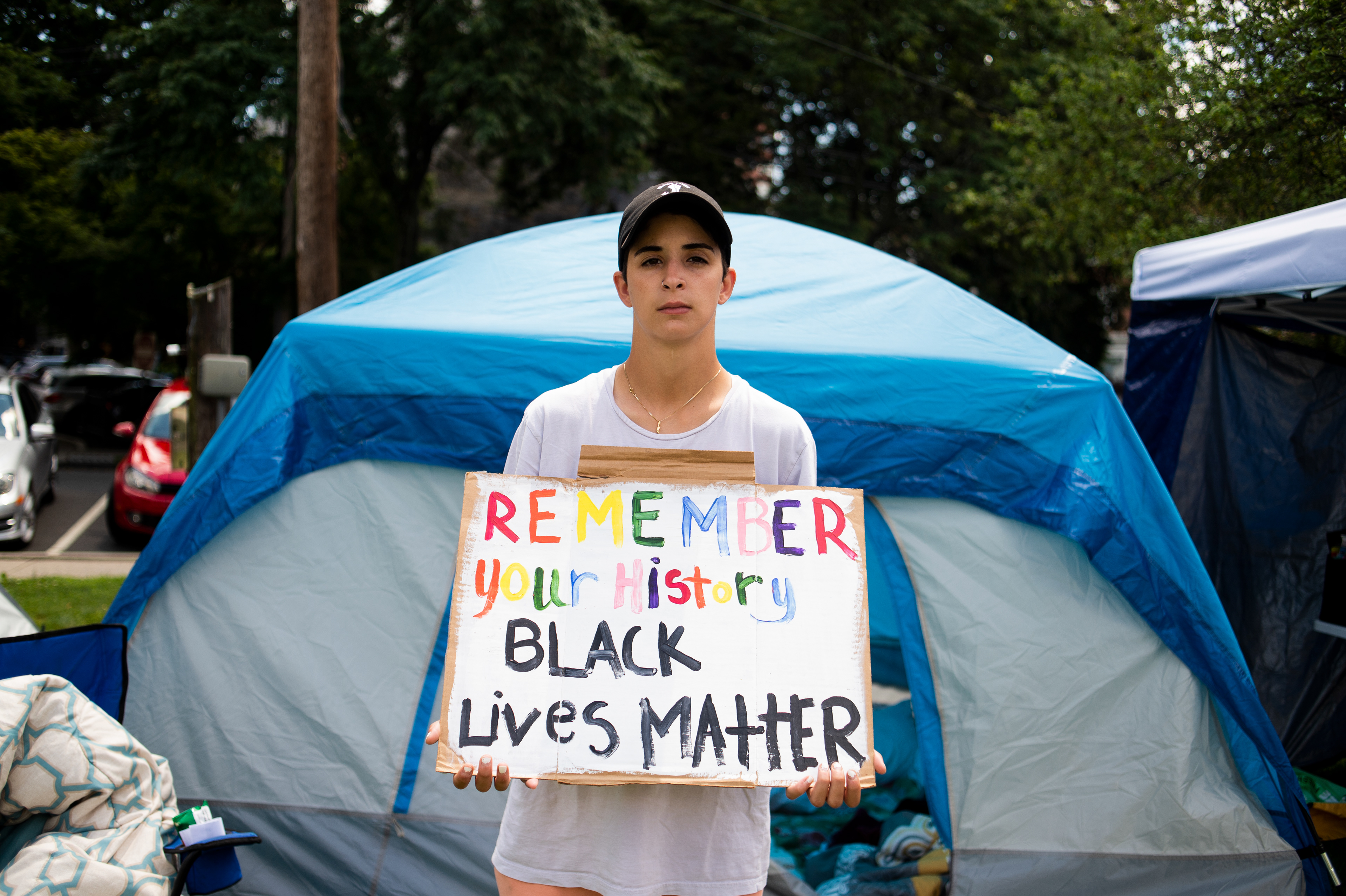 The group met with Mayor Martin earlier this week, but Isabella Mulas, 23, of Stamford said the meeting was unproductive. The activists say they plan to remain in the park until their demands are met.
Arthur Augustyn, a spokesman for Mayor Martin, said in a text Thursday that the mayor has met with protest organizers several times, said the group has been ordered to vacate the park.
"We believe in protecting the right to protest but it is subject to reasonable time, please, and manner restrictions," Augustyn said.
The protest group, many of whom forged a bond at a recent "Occupy Bridgeport" camp last month, say they aren't moving.
"We were out there for a week, and we ended up getting six out of 11 demands met by the Bridgeport Police Department," said Jason Baker, 21, of Milford.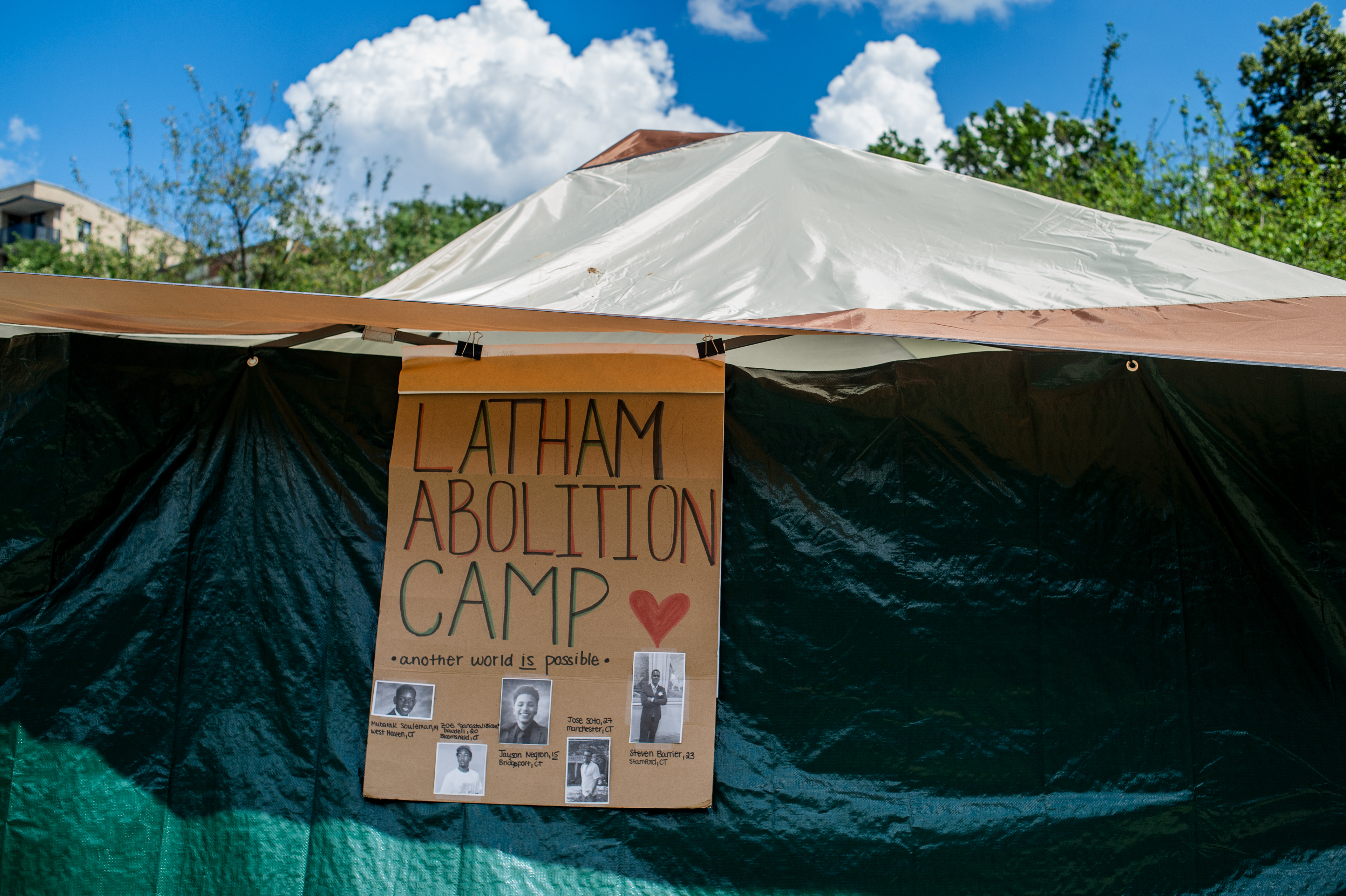 Bailey Bitetto, a 23-year-old Stamford resident, organized the Saturday protest that led to the decision to remain in the park until their demands are met. Bitetto, who is white, said her goal was to bring awareness to what happens not just across the nation, but "in our own backyard.''
"Right down the street, a boy that I grew up with wasn't offered the same rights that I am offered," Bitteto said as she reflected on her interactions with police, saying that she has run with her back to the cops and has never feared what could happen.
Samantha Pleasants, a 27-year-old from Darien who is white and who has helped to organize the protest, said that she has always been involved in activist work. She said she has a personal connection to the justice system and reform, because her older brother has been in and out incarceration since he was 15 years old.
Pleasants said she sees how much worse the systems are for people of color, especially Black people.
"We're here for police brutality, but this is a lot deeper," she said. "It's about systemic racism and white supremacy."
Everyone camping out for change has a story, a reason why they are calling for reform.
"Two of my friends were shot and killed by police officers," Kira Ortoleva, 19, of Milford, said. "My best friend, Mubarak [Soulemane], was shot January of this year."
After losing her best friend, Ortoleva became very involved with the "Black Lives Matter" movement and began protesting and organizing for him. She said that the community she finds in this movement means a lot and helps to uplift her friends' names.
"It's very hard to go forward in life because I know that they're not here anymore and I can't see them anymore," Ortoleva said. "But if they were here to see all of this, I know how inspired and how beautiful they think it would be."
"I know that if my friends were still alive, they would be right here by my side with me," Ortoleva said. "And I know that if they are looking down, I have to make sure that they did not die in vain... I don't want it to happen to another mother, or another friend."
Ortoleva and Baker, both from Milford, were with others at the Bridgeport park occupation. On the inside of Baker's left arm, right above where his elbow bends, there's a simple tattoo of a tent. Ortoleva has the same tattoo, but right below a geometric-style black panther tattoo in honor of her late friend Mubarak.

"It kind of puts things into perspective here," Bridgeport native Jezelle Gordon, 24, said. "It gives it incentive that we may not have all of our demands met... [and] everything doesn't have to be met right now. It's like a little kid: you can't get everything in the store, you can only get one thing. So we're going to keep going back to the store."
The community has had mixed reactions to their presence, although the protesters say it's been mostly supportive. Public transportation buses, postal service vans and delivery trucks, as well as daily passerbys honk in support and gesture in solidarity. They are also getting support from some local elected leaders.
State Rep. David Michel has been working with the protesters and city administration to facilitate conversation. "It's very important to me that [the protesters] are able to express themselves, but also that there is communication between the two parties so that they can come to an agreement," Michel said.
Michel isn't the only state representative showing up in support of the young activists. State Rep. Anne Hughes stopped by on Tuesday afternoon to speak with the young activists and hear what they had to say, especially before going in to the upcoming special session.
"I am so heartened and inspired — especially by the organization of young people and young people-led encampments, because it is a very physical manifestation of disrupting the status quo," Hughes said.
Los Fidel, of Hamden, said his mantra is "be disruptive, not destructive."
Fidel has a tattoo on his arm that he drew seven years ago after the death of Trayvon Martin, but said he just got the tattoo two weeks ago in the wake of the current social justice movement.
"We're not here to be violent; we're here to be heard," Fidel said. "I'm not anti-police, I'm anti-police brutality. And I'm not anti-white, I'm anti-white supremacy."